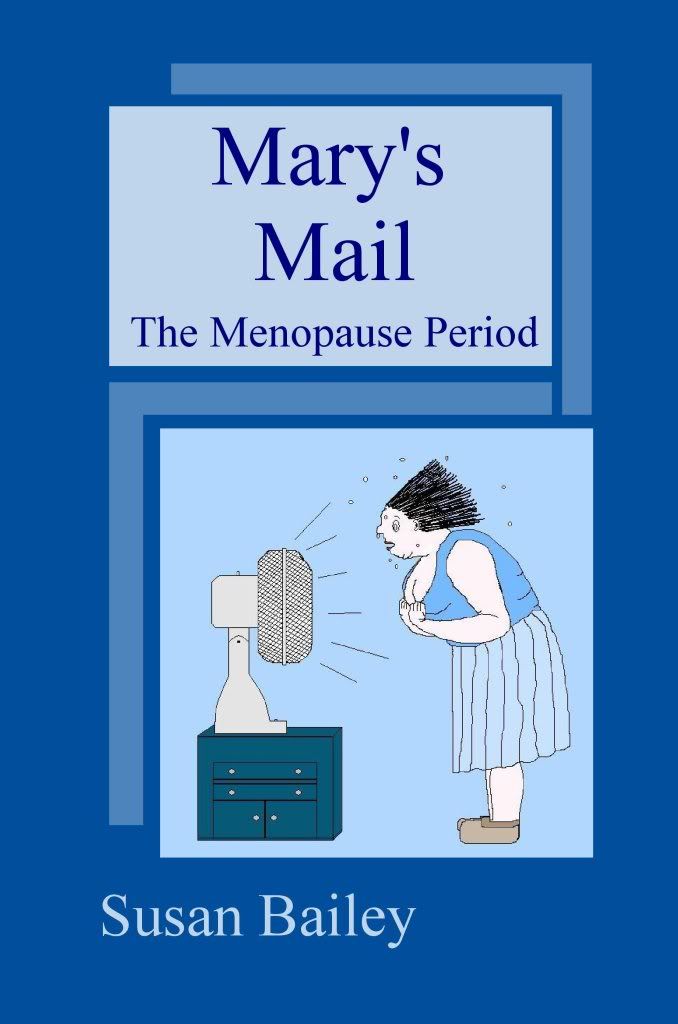 Mary's Mail
The Menopause Period
...............Well, it's not me, is it? I told him, yes I did, I said, "Paul, toilet brushes and dusters
are just not me".......................
Mary's Mail is the story of three friends, once neighbours, who keep in touch by email.
Highly-strung, Celia, hasn't taken to life in a small, French village where her neighbours are an old eccentric and a gay couple. When she discovers that her husband has a secret, she embarks on a lifestyle that shocks her friends.
Mary lives with her husband, Geoffrey, in Eastbourne and struggles with her personal sadness over her estrangeddaughter. When tragedy strikes it's Mary's sense of humour and inquisitive nature that keep her going. She feels it's her duty to discover what is going on in the house next door?
Em has to contend with her moody daughter and 'perfect' son, as well as her snobbish neighbour, Delia, but she's happy with her life until man-eater, Georgie, moves in next door.
Excerpt:
Oh, the embarrassment. It was the most embarrassing moment of my life. I was going to tell Celia about it too, but I thought, no, Celia's so prim and proper about certain things, she might think me vulgar. Perhaps I am a little vulgar sometimes, but we all need a little vulgarity now and again, don't we, Em? How I'm going to get over this I really don't know, my stomach turns somersaults every
time I think of it.
Where are my friends when I need them? It's so difficult now without you or Celia to pop into to tell my troubles to, or, as in this case, my humiliation. New neighbours each side and none of them any use to me. The old couple that bought your house must have hibernated. I haven't seen hide nor hair of them for weeks. Oh, you don't think something awful has happened, do you? Perhaps I should pop round, make sure they're still alive. I mean they are
quite elderly, aren't they?
And then there are the people who moved into Celia's house. I don't know what Celia and Paul were thinking, selling to those people. There's her, Panda, she seems to be called, heaven knows why. Perhaps because he gives her a black eye every so often, he looks the type who might. Anyway, she has tattoos on her arms and legs, and skirts up to her bum; it's disgusting. Oh dear, I'm beginning to sound like Celia, I must be more careful. Can you
catch prim and properness, I wonder? Or is it something that comes with old age? I hope not. Can you imagine me changing into Celia? The thought of it! And then there's him, that Panda's husband. Well, I suppose he's her husband, you never can tell these days. Rog, his name
seems to be, rhymes with dog, strange name. Well, he looks fine when he goes out to work in the morning, dressed in a suit, must work in some kind of office, but when he comes home, it's suit off, jeans on and he's out in the garden strumming away on a guitar and when he's not doing that he's inside playing music. How on earth their baby sleeps, I don't know. He too has tattoos all up his arms.
Why do they have to tattoo themselves to that extent? Do they think it looks attractive? Far from it in my opinion. I wonder what Geoffrey would say if I came home with a tattoo on my bum. You have to admit there'd be plenty of room for a big one on my backside.
Anyway, back to my predicament. It was awful. I went to my
art class Monday evening as usual. I had on my lilac skirt and pink blouse with little flowers on it. Do you remember? I bought it in M & S when we went into town just before you moved. Well, I must have been getting a little over-enthusiastic with the paint and I splashed some on my blouse. I should have been wearing my protective over-top, (which is really just an old shirt of Geoffrey's), but had forgotten to take it, so I went into the ladies to wash it off.
I took off the blouse, sponged the paint out of it, and decided I might as well go to the loo whilst I was there. Going into the cubicle, I hung my blouse on the door and sat myself down. There I was, in full wee, when the door was pulled open. I'd forgotten to lock it and, unfortunately, it wasn't one that pushed inwards, which
I could have stopped with my foot, it opened outwards. It was such a shock, Em. There I was, sitting in my bra, blubber hanging in folds around my middle, skirt hauled up, knickers round my knees and there before me, looking at all this, was Charlie Hughes from my art class. I sat there, toilet paper in hand ready to wipe, feeling
my face flush redder and redder, with a shocked looking Charlie standing in front of me.
I don't know who was more embarrassed, poor Charlie or me.
Apparently the 'gents' was out of order and there was a sign on the door to tell the men to use the 'ladies'. He stood there for what seemed like ages, but was probably only a few seconds, obviously not knowing what to say or do, then, gathering himself together, he said, "I'm sorry. I'm so sorry," and closed the door.
I jumped up and put the bolt across, a bit late I know, but at that moment I just wanted to bolt out the whole world. I felt I would never be able to step out of that cubicle again. I sat back down for quite some minutes having a terrible hot flush. You know what it's like when you're stressed, the hot flushes seem so much worse. Well this was one of those; my whole body was covered in
sweat. It was running down my forehead into my eyes. I was in such a state. After a while I managed to calm down and the flush receded. I don't know how long I'd been in there. I pulled up my knickers and pulled the blouse on to my hot sticky body. Then I stood there, not knowing what to do.
Tendrils of Time
A Collection of poetry and photography
This is my first collection of poetry inspired by nature and observation of the world around me.

Life can be hard, humorous or beautiful and this is reflected in the words of this volume. Illustrated with full colour photographs to compliment the poetry.

25 poems - 14 full colour photographs - 34 pages

Poem: Tendrils of Time

Age crept upon me

as an ivy

holding me within its grasp.

I am entwined

by the tendrils of time.

Youth lost forever.




Pressure

of the ivy's hold

leaves lines upon my face.

Grey tendrils grow coursely

from my head,

without colour or shine.




My flesh hangs

from the pull of the ivy's grip.

Joints protest

and pain erupts

as I try to pull from its hold,




but strength is lost,

time's grip is firm.

There is no escape

from age.